Sale!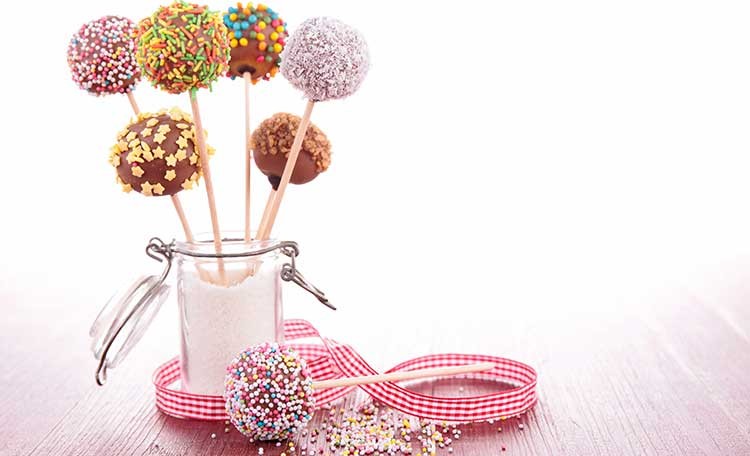 €8 Creative Cake Pop Decorating
CREATIVE CAKE POP DECORATING
Learn to make gorgeous cake pops for your next party or event!
Get on board with the sweetest trend around – Cake Pops! These delicious cake-lollipop hybrids are quickly replacing cupcakes as the favorite dessert for holidays, parties, and special events.
Warning: Last items in stock!
Availability date:
By buying this product you can collect up to 40 loyalty points. Your cart will total 40 points that can be converted into a voucher of $0.40.
Easy to make, decorate and eat, these one-bite treats are the perfect way to dazzle clients and impress guests using your creative flair! They may have started as party favors for children's birthday parties, but now cake pops are center stage at weddings, showers, and even Hollywood parties. And they aren't just yummy – their stunning designs make beautiful centerpieces. Cake pops are a perfect way to bring your party or event theme to life.
Why spend hundreds of dollars on a custom cake when you can easily DIY your dessert table? For professional caterers, there's no need to hire a pastry chef when you can surprise clients with a complete cake pop menu to choose from. Give your events a bright 'pop' of color AND flavor with our cake pop baking and decorating course.
What You'll Learn
If you can bake a simple cake following a step-by-step recipe, you can make a cake pop! In our course, we'll show you how to make cake pops from scratch, and decorate them using a bit of artistic creativity and some materials found in your baking pantry. We'll start off with the easy stuff, and once you've gotten the hang of the basics, you'll learn some pretty fancy cake pop styling!
We start with the basics - prepping your workstation, and what tools and ingredients you'll need
We'll teach you a variety of cake pop recipes, so you'll have a few yummy flavors to choose from
You'll learn how to roll and sculpt your pops with expert precision
We'll show you tons of decorating techniques using sprinkles, powders, sugars, and more!
You'll learn how to make your own fondant and use it to sculpt ornaments for your cake pops
We'll teach you how to paint your cake pops and add cool details
And we'll demonstrate how to make themed cake pops for kids, birthdays, weddings, showers, and more!
This course is for any experience level – from beginner bakers to expert chefs who want to learn cake pop techniques. It includes video demonstrations and tutorials which you can pause at any time, so you can follow along at your own pace.
By the end, you'll have mastered several cake recipes, as well as numerous decorating techniques, and you'll be making cake pops like a real pro. So what are you waiting for? Get baking and start popping!

BONUS: Free eBook: Creative Popsicle and Ice Cream Pops Recipes with your course!

Cake pops are great for all-year entertaining and events, but let's get you ready for summer with Trendimi's top 10 recipes for popsicles and ice cream pops. The perfect cool and refreshing treat for hot summer bbqs, and birthday parties, we'll show you how to make juicy fruit popsicles and decadent chocolate pops to satisfy any sweet tooth!

Here's what's inside:

Strawberilicious pops
Watermelon pops that look like real watermelon slices!
Funky tie-dyed fruit pops
Real fruit raspberry and blueberry pops
Pink Lemonade pops
Tropical Sunset pops
Fudgesicles
Nuts & Cocoa pops
Decadent dark chocolate pops
Tiramisu coffee pops

FREE when you purchase the Creative Cake Pop course!

Module 1: Preparing for DIY Cake Pops

Getting Started and Prepped
Overview of Tools and Equipment
Intro to Ingredients and Supplies
Make to Order – Portioning and Volume
Choosing a Theme
Safety Tips and Considerations

Module 2: Getting Your Bake On

Recipe for Heavenly Vanilla Sponge Cake Batter
Recipe for Chocaholic Fudge Batter
Recipe for Creamy Strawberry Cheesecake Batter
Recipe for Chunky Peanut Butter Batter
Recipe for Tiramisu Coffee Batter
Recipe for Monkey Banana Bread Batter
Recipe for Red Velvet Cake Pops Batter

Module 3: Production Secrets for Perfect Pops

Molding and Sculpting the Pops
Setting and Chilling Instructions
Using Melts to Make the Stick STICK!
Dip and Glaze Finishes
Recipes for Melts and Dips
Recipe for Fondant

Module 4: Adding the Bells and Whistles

Ombre Dips and Finishes
Using Sprinkles and Sugars
Dusting with Powders
Rolling and Sculpting with Fondant
Using Molds and Impressions
Piping Tips for Scripts and Shapes
Hand Painting Details
Suggestions for Decorative Accessories

Module 5: Fun and Fancy Decorating Ideas

Animal Cake Pops for Kids
Sophisticated Wedding Cake Pops
Adorable Baby Shower Cake Pops
Quick and Easy Birthday Design
Pretty Flower Cake Pops
Superhero Cake Pops
Presentation Tips and Ideas
Storing your Cake Pops