Sale!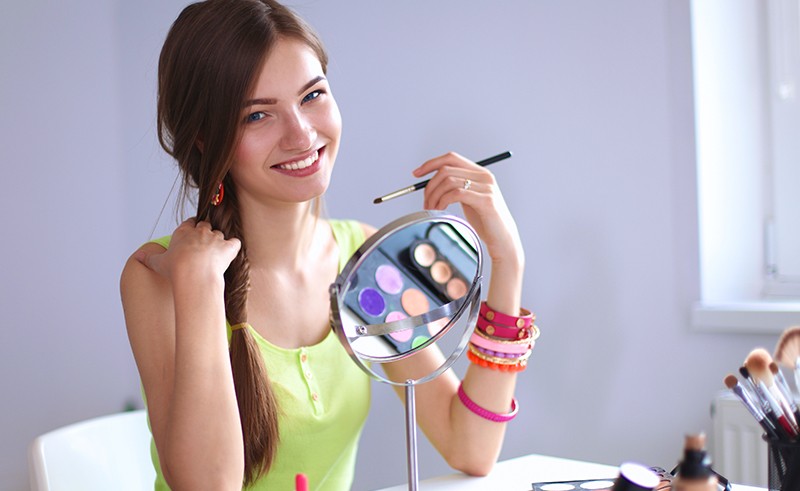 €29 Makeup for the Everyday Woman
MAKEUP FOR THE EVERYDAY WOMAN
Celebrities have a team of pros – but all YOU need to look and feel fabulous is to know some beauty basics!
Contouring? Cat eyes? Strobing? If you've picked up a magazine or read a beauty blog lately, you may be overwhelmed by the latest beauty trends.
Warning: Last items in stock!
Availability date:
By buying this product you can collect up to 95 loyalty points. Your cart will total 95 points that can be converted into a voucher of $0.95.
There are new products, new techniques, and new looks – and you're still trying to figure out how mascara works. We totally get it! Sure, there are tutorials available online, but it's hard to translate those bold fashion looks for YOUR day to day use; you'll need simple everyday makeup, and makeup for beginners.
You don't need to be a professional cosmetologist to play up your natural beauty and have fun with makeup - and there's no reason to spend hundreds on fancy products either. So we've made it super easy for all you minimalists, girls on the go, and anyone who wants to experiment with makeup but doesn't know where to start. With this course, you'll learn fast, easy, and inexpensive makeup techniques that ANYONE can pull off.
Learn subtle application for flawless natural looks, soft day makeup, and glamorous evening styles when you want more drama. This course contains video tutorials that you can follow along with and replay, so you master the technique at your own pace. It's perfect for the every woman who doesn't have time to fuss over a mirror, but still wants to look and feel beautiful!
You'll learn how to:
Care for all types of skin so you can start with a flawless base
Get your eyebrows ready for action with grooming and shaping tips
Learn how to choose a foundation texture and color to suit your skin
Use concealer and corrector to disguise blemishes and imperfections
Create a natural, "no makeup" look that's perfect for everyday wear
Identify your color palette for eye shadows, blushes, and lipsticks
Apply eye shadow and eye liner to every eye shape
Create a soft and fresh "daytime" look that's perfect for work
Use contouring and highlighting to get a defined and polished look
Apply a smoky eye and false lashes for a dramatic look
Create a glamorous "evening" look inspired by Hollywood stars
Assemble your own makeup kit and get tons of shopping and product tips!

Module 1: Natural Beauty and Healthy Glow

Cleansing, Exfoliating, and Toning the Skin
Identifying Your Skin Type
DIY Skincare Treatments
Ageless Skin (mature 50+)
Ageless Skin (middle-aged 35-50)
Ageless Skin (adulthood 25-35)
Getting the Perfect Eyebrow Shape – video tutorial
Eyebrow Hair Removal
Defining the Brows with Makeup

Module 2: The "No Makeup" Look

Learn Your Makeup Terms
Priming the Skin
Foundation Types and Textures
Choosing Foundation to Suit Skin Tone – video tutorial
Correctors and Concealers – video tutorial
Setting with Bronzer
Nude Makeup

Module 3: Soft Makeup for Daytime and Work

Finding YOUR Best Color Palette
Applying Eye Makeup for Every Eye Shape
Eye Makeup Application – video tutorial
Eyeliner and Mascara
How to Apply Eyeliner – video tutorial
Choosing Lipstick
Lip Makeup - video tutorial
Makeup for Daytime
Daytime Looks – video tutorial

Module 4: Get glam! Evening Makeup

Prepping Skin for Long-Lasting Makeup
Easy Contouring Technique – video tutorial
Highlighters –Cream or Powder? – video tutorial
Makeup Looks for Evening and Parties – video tutorial
The Classic Smoky Eye – video tutorial
Working with False Lashes – video tutorial

Module 5: Create Your Own Makeup Kit

Your Personal Makeup Kit
All About Brushes
Makeup Essentials
Kit Pricing
Cleaning and Hygiene
Staying on Top of Beauty Trends