Sale!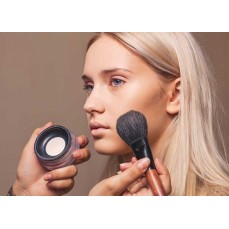 €29 Contouring and Highlighting Expert
CONTOURING AND HIGHLIGHTING EXPERT
Learn how to highlight and contour just like the pros!
Highlighting and contouring aren't just fancy techniques used by celebrities and professional makeup artists – they're an absolute MUST for any makeup fan.
Warning: Last items in stock!
Availability date:
This product is worth 95 loyalty points.
Contouring will sculpt, slim and define your face, so you can get the look you want without having to permanently alter your features.
Whereas highlighting brings out your best features by drawing attention to them using light. Who needs plastic surgery when you can get the same effect usingcontouring makeup? You can play with application, products, and shapes to achieve various looks – from soft and naturalto dramatic evening makeup. Using a mix of lessons and video tutorials, we'll show you the latest tips and techniques for creating a flawless face for yourself or your clients!
This course may be contouring for beginners, but by the end you'll be an expert! You'll learn how to:
Identify face shapes
Measure the face for symmetry
Design a facial map for product placement
Match the perfect colors for foundation
Find an ideal contour palette
Choose the right products and tools for your contouring kit
Properly blend with easy techniques
Professionally apply cream products
Professionally apply powder products
Add color in the right places with blush
Work with all ethnicities and skin types
Alter various face shapes and features

About the Author

Stefani's passion for the beauty industry started off at a young age doing makeovers for family and friends. Her passion grew into a profession as word spread and her services were being requested around town.

After graduating at the top of her class as a licensed cosmetologist, she was immediately hired to work for her beauty school. She became a Field Representative and also volunteered for many charity events and local women's shelters. She traveled throughout the Midwest inspiring future cosmetologists. Over the course of a year, Stefani enrolled hundreds of aspiring cosmetologists into beauty school. Through her leadership and life as an example, she encourages others to overcome obstacles and pursue a career in the beauty industry.

Stefani sought training from renowned experts and celebrity makeup artists from around the world to be certified in the following courses:

HD Makeup Artistry
Bridal Makeup Artistry
Brow Threading
Lash Extensions
Body Painting
Custom Blending

Stefani is now a Licensed Cosmetology Instructor by the State of Ohio and has a passion for education. She designed a curriculum for students to learn how to become a makeup artist and start a career in makeup artistry. Her classes are created for beginners to intermediate students of all ages. She also travels as an artist for top luxury lines such as, CHANEL COSMETICS, NARS, and ANASTASIA BEVERLY HILLS.

Module 1: Preparing the Skin

Introduction to skin
Identifying skin types – Dry, Oily, Combination, etc.
Choosing products
Understanding the color wheel
Color correcting
Using concealer
Matching foundations for every skin tone and ethnicity
Identifying face shapes

Module 2: Highlighting with Cream

Benefits of using creams
Cream vs. Powder highlighter
Creating a map for symmetry
Measuring facial zones
Choosing tools for cream highlighters
Choosing cream products
Color choices for all skin tones
Applying cream highlighter

Module 3: Contouring with Cream

Benefits of using creams for contouring
Pros and cons of cream contours
Choosing contouring products
Color choices for all skin tones
Using a facial map for contouring
Where to place contouring
Applying cream contouring

Module 4: Contouring with Powder

Benefits of using powders
Powder types
Pros and cons to powders
Setting with powder
Choosing tools for powder contouring
Applying powder contouring

Module 5: Highlighting with Powder

Benefits of using powder highlighters
Setting with powder highlighter
Discover the power of reflection
Types of powder highlighters
Choosing tools for powder highlighting
Color choices for all skin tones
Applying powder highlighters