Sale!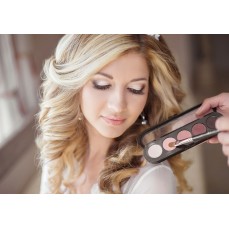 €29 Bridal & Special Occasions Makeup
BRIDAL & SPECIAL OCCASIONS MAKEUP
Master the art of makeup for those special life occasions, including weddings, events and makeup for photography.
Weddings are one of the largest event industries, and brides want the best for their big day! Wedding and special occasion makeup is highly desired, and clients are willing to
Warning: Last items in stock!
Availability date:
This product is worth 95 loyalty points.
pay for high quality services.
As a wedding and special event makeup artist, you have the opportunity to grow your clientele considerably as you master your craft.
Many people do not consider the special circumstances that occur during weddings and events, such as difficult lighting and photography. This course will teach you the ways to apply makeup in the most optimal way, so your clients leave happy.
Who is the course for
A makeup artist looking to fine tune their skill with bridal and event makeup
Brides who are looking to master their own makeup for their special day
Anyone with an upcoming event who wants to elevate their everyday makeup
Wedding industry professionals looking to add makeup services to their offerings
Photographers who want to understand what makeup will look best in their photos

Module 1: Face Makeup

1.1 Preparing the skin
1.1.1 Cleansing
1.1.2 Exfoliating & Toning
1.1.3 Hydrating
1.2 Sunless Tanning
1.2.1 What are the options?
1.2.2 Application best practices
1.3 Face Makeup
1.3.1 Different foundation finishes
1.3.2 Different foundation formulas
1.3.3 Concealer
1.3.4 Powder
1.4 Foundation Application
1.4.1 Brushes – What type to choose?
1.4.2 Sponges – What type to choose?

Module 2: Eye Makeup

2.1 Defining the eye shape
2.2 Application tips for each eye shape
2.3 Eyeshadow
2.3.1 What are the different eyeshadow finishes?
2.3.2 Warm vs. cool tones
2.3.3 Bridal eyeshadow color palette
2.4 Eyeliner
2.4.1 What are the different types of eyeliner?
2.4.2 Application techniques for each eye shape
2.5 Mascara
2.5.1 Choosing a mascara formula
2.5.2 Mascara wands and their results
2.6 False Lashes
2.6.1 Different last shapes, and how to choose the right one
2.6.2 How to apply false lashes

Module 3: Lips, Cheeks & Brows

3.1 Lip Products
3.1.1 Lipstick Types
3.1.2 Lip liner – how to apply and use effectively
3.1.3 Lip gloss
3.2 Cheeks
3.2.1 Blush color and application
3.2.2 Bronzer finishes
3.2.2.1 Effective contouring techniques
3.2.3 Highlighter – liquid, cream or powder?
3.2.3.1 How to apply highlighter for brides
3.3 Eyebrows
3.3.1 Eyebrow grooming basics
3.3.2 Tools and products to fill in different brows

Module 4: Special Considerations for Weddings & Events

4.1 Photography
4.1.1 Face makeup and photography
4.1.1.1 Foundations that don't reflect in photos
4.1.1.2 Face shaping with makeup for photos
4.1.2 Eye makeup and photography
4.1.2.1 Shimmer vs. matte in photos?
4.1.2.2 Eye enhancing tips for photography
4.2 Lighting
4.2.1 Makeup for natural lighting
4.2.2 Makeup for artificial lighting
4.2.3 Makeup for stage lighting
4.2.4 Makeup for dim lighting
4.3 Durability
4.3.1 How to prep the skin to help makeup last
4.3.2 Primers
4.3.2.1 Facial primers
4.3.2.2 Eye primers
4.3.2.3 Lip primers
4.3.3 Finishing Sprays

Module 5: Bridal & Special Occasion Makeup as a business

5.1Finding clientele
5.1.1 Wedding boards, websites and other resources
5.1.2 The importance of referrals
5.1.3 Creating a portfolio
5.2 Preparing for the big day
5.2.1 How to work with a bride prior to her wedding
5.2.2 Color palette and theme understanding
5.2.3 Consultations and trial runs
5.2.4 Should you charge a deposit?
5.3 Creating your kit
5.3.1 Makeup essentials
5.3.1.1 Kit essentials – face makeup
5.3.1.2 Kit essentials – eye makeup
5.3.1.3 Kit essentials – lip & cheek makeup
5.3.2 Tool essentials
5.3.2.1 Kit essentials – brushes
5.3.2.2 Kit essentials – Tools & Accessories
5.3.2.3 Kit essentials – Applicators & disposables
5.3.3 Hygiene and sterilization basics
5.4 Managing event day
5.4.1 Working with the bridal party
5.4.2 Professionalism during events
5.4.3 Payment
5.5 Growing your business