Sale!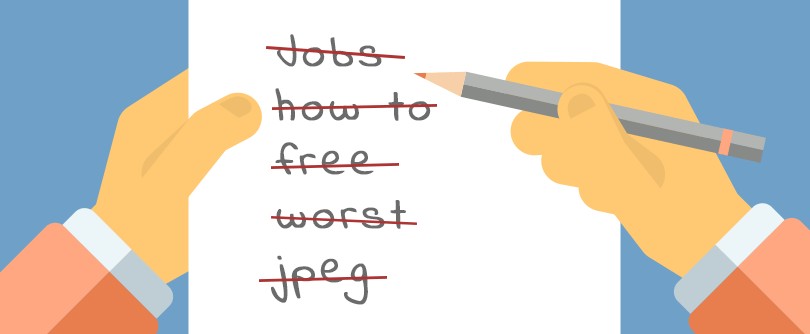 €/£/$5. Was €191. 388 Google Adwords Negative Keywords List Download
Save €1,000's on your Google Adwords Campaign
You've targeted the keyphrase "Web Designer"
Unknowingly, you'll pay for searches such as "Web Designer Jobs", "Free Web Designer", "How To Become A Web Designer" and infinitely more. These searches will never buy from you. Negative keywords should have been used, such as "jobs", "free", "how"...
Warning: Last items in stock!
Availability date:
By buying this product you can collect up to 25 loyalty points. Your cart will total 25 points that can be converted into a voucher of $0.25.
Your Negative Keywords List. The "Key" To A Great Google Ads Campaign!
You may miss some negative keywords along the way, such as "job", "freebies", "careers", etc... The list goes on.
We have been running Google Ads Campaigns for years. We regularly check our search terms and we regularly find negative keywords that waste our budget. We add them to our adwords campaign list. So we don't make the same mistake twice. We have compiled this list of negative keywords just for you. We've built these negative keywords up over the years and is sure to save you €100's if not €1'000s on your Google Adwords Campaign.
We don't claim to have every possible negative keyword in our list. But we sure do have a lot that will save you money.
What Is Google Adwords?
With Google Adwords you pay to get on top of google for search terms such as "Web Design Dublin". Generally, the more you pay, the higher you get. However, a good quality landing page, with great conversions, that keep users interested, will generally be charged less. If your landing page is irrelevant to the keyphrase, you will pay more.
How Does Google Adwords Work?
It's a bidding process. Whoever pays more, gets on top. However, you can set an amount per day and just run your ad as normal. Or you can raise or increase bids to get higher on the page. The more relevant your landing page is to the search, the less you will have to pay.
Instructions After Purchase
You'll receive an excel sheet with 388 negative keywords via email with a list of negative keywords to use in your adwords campaign.
Simply upload the keywords to your Campaign or Ad Group.
We offer a full refund, 100% money back guarantee if you are not happy with our service.
We have full confidence that this list will save you a ton of money.
If we had this list when we started out, we would have saved €1,000's.
Happy Selling.